Become a "living organism"!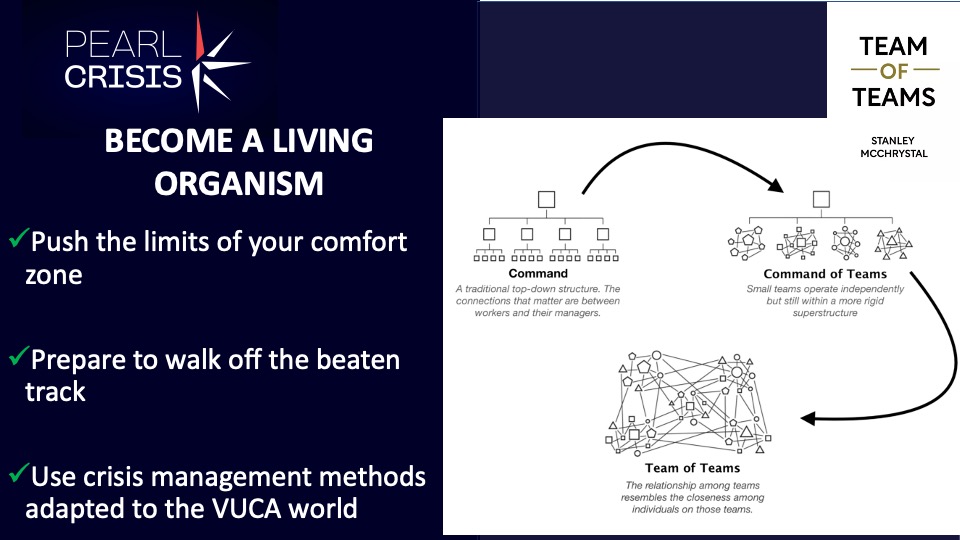 We're still often asked what Pearl has to offer.
And so I see the evolution of our offer.
First, we proposed to be :
👉 crisis management consultants
👉 with a strong focus on the human factor
👉to put management teams back at the heart of the organization
👉 to ensure better decision-making
But on closer inspection, we found that our offering went much further.
We propose that our customers gradually set up an organization:
👉reactive
👉 where trust enables delegation
👉taking responsibility
👉 dare to take the initiative
By helping our customers to adopt the "Pearl crisis management" mindset, we see them push back the effects of #uncertainty and the limits of their comfort zone. For them, the tipping point into the unknown is postponed.
Then, if it does happen, once they've entered the zone of uncertainty, our customers are prepared for a new environment by quickly getting over the shock effect. They adapt and manage the new situation collectively, helping each other to maintain their ability to #decide effectively.
The #ROI is obvious, but does it need to be demonstrated?
The #trust and #empathy we offer our customers are the keys to networking. AI is already transforming the way we work. But as Emile Servan-Schreiber says in "The New Power of Intelligence", it's the networking of our brains that will be one of the creative responses to or with this new tool.
Our model is that of the "team of teams", conceptualized by General McChrystal.
This system did not wait for the charismatic general to exist. Many companies applied this system more or less intuitively. And Dunbar's number, which the Romans knew before Dunbar, has long demonstrated that there is a limit to the size of a team. If you want to grow, you have to multiply the number of teams. You have to work as a "team of teams".
But McChrystal has written about what follows from this concept, and above all, he has successfully put it into practice!
That's why our approach is so comprehensive, and may come as a surprise to some of our customers.
👉Yes, we help them organize themselves in a rigorous way to prepare for any type of crisis
👉But we go further with our experiential, off-center training courses, which can be likened to coaching.
👉We help to disseminate qualities linked to crisis management but useful in everyday #management
➡️Pour transform your organization into a living organism endowed with initiative.
So push your limits with Pearl!
Visit us at www.pearl-crisis.com
Discuss on contact@pearl-crisis.com
PEARL Crisis Response
#intelligencecollective #team #entreprises #vuca #vucaleadership#leadership #leaderdevelopment
Back to news