CREATING A COLLECTIVE
Not everyone understands our bias.
But more and more people do!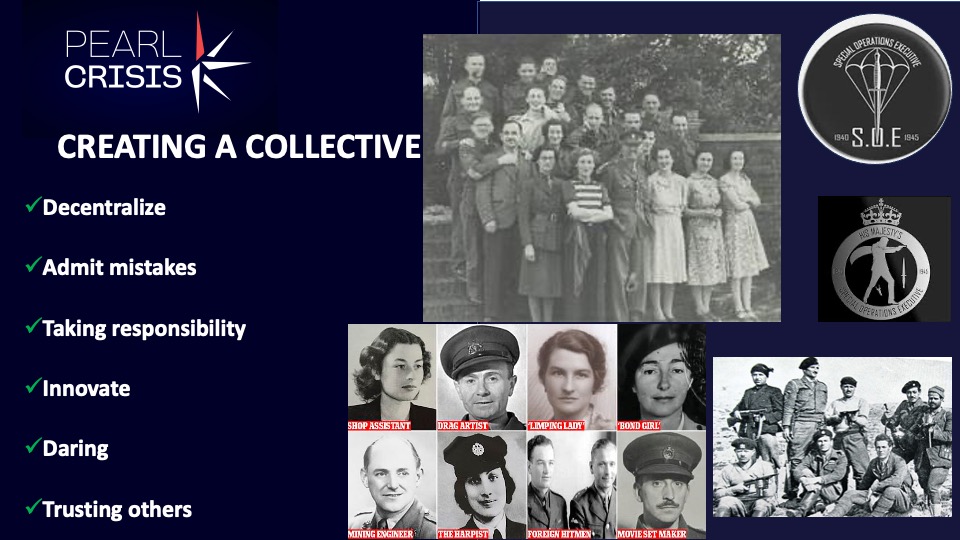 The explanation lasts longer than the 15-second elevator pitch. That's why I've given up on impatient people who want a cloned, pre-packaged presentation.
A customer asked us to organize a training session on CREATING A COLLECTIVE.
His team works remotely. It's made up of new "recruits" and "big personalities" who tend to work in their own silos.
We explain our approach to this customer: immersive, scripted training courses that allow us to decentralize both geographically and temporally, using techniques inspired by the special units where we served.
He's on board!
👉 Why a geographical shift?
We're proposing a change of scenery, with the team "working" together in the city, the countryside…
👉 Why temporal?
We want to avoid any confusion. We're not training candidates for the Army, but we're taking a step sideways by going through the crucible of modern special units, SOE, which is an incredible source of inspiration
👉 Why special units?
This "detour" via special units allows us to use what we've learned there and adapt it to the challenges of corporate management, making transpositions for the benefit of managers and companies. Special units are a great capacity for #adaptation and #innovation, thanks to #collectiveintelligence.
👉 Why is error allowed?
We enable these managers to make mistakes, get to know and trust each other better, progress together and build stronger, more responsive teams capable of adapting by taking the initiative…
👉 Why SOE?
SOE, created in 1940 by W. Churchill, is innovation for survival and a formidable melting pot of modern values.
When conventional military profiles aren't enough to fulfill missions, SOE recruits refugees who have fled their invaded country, minorities, transvestites (the art of camouflage), thieves (opening safes discreetly), counterfeiters (money laundering)….This is also the unit where recruiting women will demonstrate their effectiveness in the field.
At SOE, #diversity has not been a slogan but a culture that has enabled us to survive
👉This side step we're allowing you is "knowing how to lose a little time to gain some" by giving your #teams the opportunity of an #experience with our trainers to make these transpositions and open up possibilities for personal and collective improvement.
No physical selection, but a chance to reveal your situational intelligence and impact your #management and #leadership style.
So, ready to join? Curious?
Let's talk!
Visit us at www.pearl-crisis.com
PEARL Crisis Response
#confidence #decision #forcesspeciales #seminars #onboarding #transformation #engagement
Back to news