Summer serial: A taste for adventure and leadership (ep. 2)
In 1914, Ernest Shackleton recruited for the "Endurance Expedition", promising a small salary, polar cold, long months without sun, constant danger, an unlikely return, but honor and recognition in the event of success…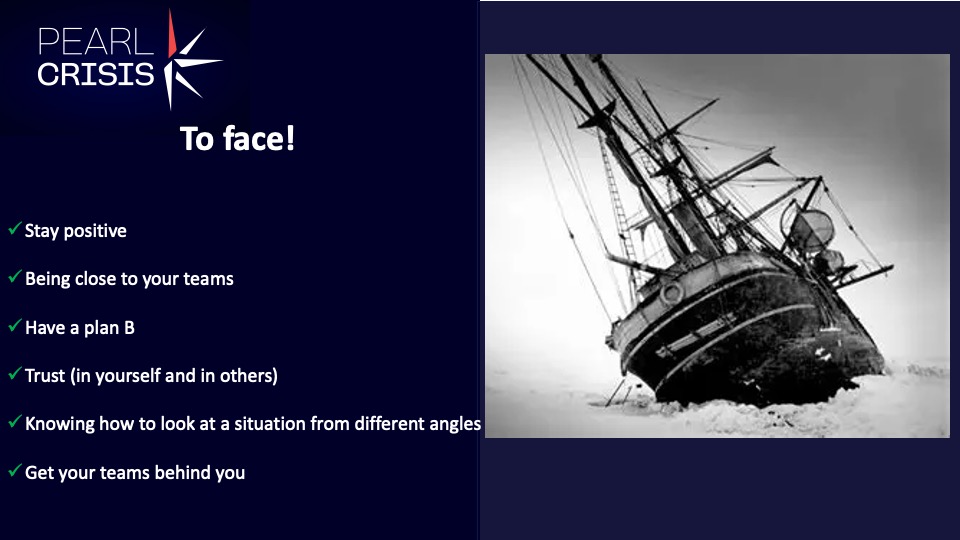 Hundreds volunteered.
Shackleton created his own recruitment criteria.
The expedition was aptly named, Endurance, because the ship was trapped in the ice of the South Pole…and was never freed.
The adventure lasted from 1914 to 1917…
Shackleton was a taciturn and unpleasant leader…ashore.
Once on his ship and away on his adventure, he was an extraordinary leader, close to and concerned about his men. He knew each of them with their strengths and limitations. They spent time, to everyone's astonishment, asking him questions during the long hours on watch. Many questions which seemed trivial, but which enabled him to draw up portraits…
His decisions were the fruit of thoughtful reflection, based on a thorough understanding of human psychology and his crew.
Do you know the rest? Perhaps not? But are you interested in Pearl's vision of this sequel?
Then look out for episode 3 of this summer soap opera…
You can also contact us to talk about Shackleton, and perhaps also to discuss your topics and needs concerning commitment in your company, audacity, the agility of your teams and their ability to adapt, and your definition of extraordinary situations!
Look at things from a new perspective:
PEARL Crisis Response
www.pearl-crisis.com
Back to news