Crisis management training at INSP (French National Superior Institute for Public Administration)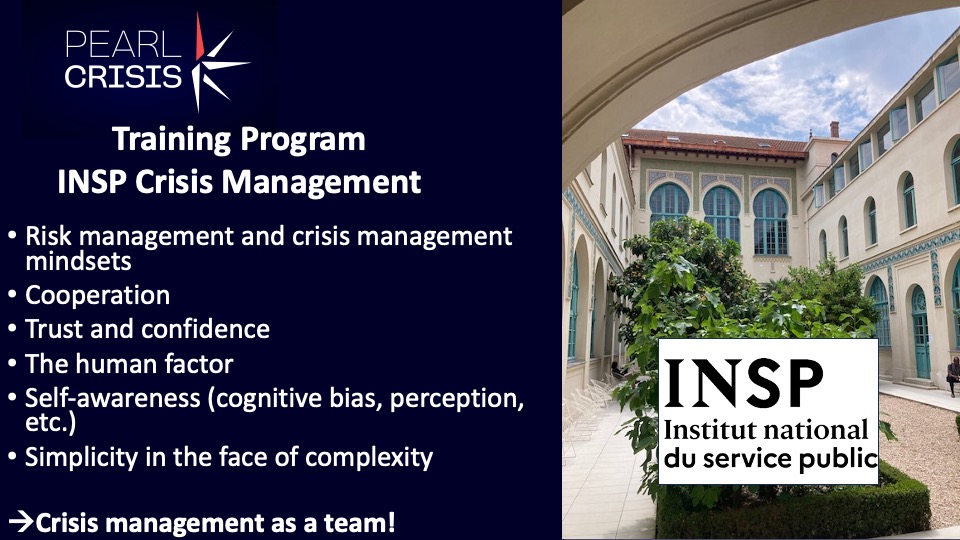 I had the honor of speaking this Monday at the INSP – Institut national du service public, to launch a several-day session dedicated to #crisismanagement, for the benefit of foreign civil servants.
On the agenda: a presentation of crisis management and a strong focus on the #humanfactor:
👉the effects of stress
👉the #biaiscognitives
👉the #decision process
👉the need for diversity in a team
👉the possibility of expressing unconventional opinions
👉creativity
👉the acceptance of error, so as to dare to take risks and regain the initiative
👉the development of #trust and its culture in organizations
👉le #leadership…
➡️qui enable a team to develop #collectiveintelligence and implement the crisis management "mindset" to quickly adapt together to a new situation of #uncertainty that requires moving from the application of procedures (incident management) to creative responses (crisis management).
The participating civil servants each have a wealth of experience in crisis management, and I was able to begin to discover some of it as we exchanged ideas during the few hours we spent together. I came away from this presentation with the slight frustration of not having had enough time to learn more from them…
This kind of sharing is a real booster. It's also a great source of learning about others and about ourselves.
The rest of this week's program at the INSP is extremely interesting, and will look at the crisis, or rather crises, from all angles, with contributions from Natalie Maroun, (crisis management and communication specialist), Mathieu Couturier (#Cyber specialist, ANSSI), Luc Guiraud (deputy director of the Suez group's safety department), Vincent Veauclin, (specialist in geopolitics and international security, lecturer at Sciences Po and security coordinator for the Suez group), Alexandra Delgado,(specialist in international security and regulatory risks) Arnaud Filizzola,(expert in risk management and asset protection) Benjamin Geraudie (specialist in the risk environment and business continuity).
Thanks to Alexandrina Soldatenko,(INSP), Camille Peyregne (INSP) and Pierre WOJCIK for their trust.
PEARL Crisis Response helps management teams adapt collectively to crisis situations and change.
ENA – Ecole nationale d'administration
Back to news