Forming a team
Your mission: build a team to accelerate innovation
Honored to have had the confidence of this "tech" customer who perfectly understood the added value of Pearl's immersive training courses.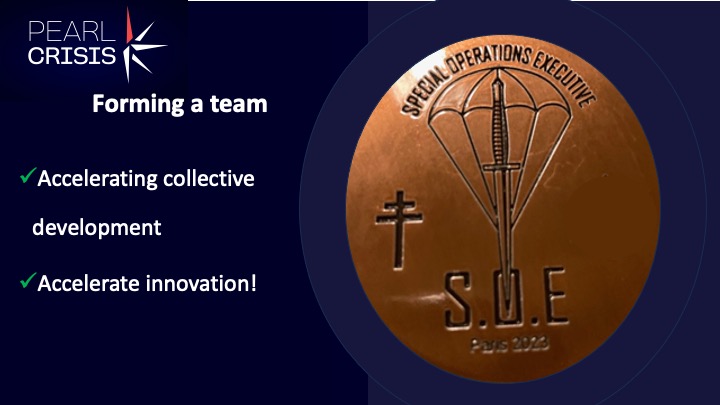 For this customer, innovation is vital in a hyper-competitive world.
This customer has chosen to invest in its employees and in the creation of strong links within R&D groups.
This company has employees on several continents, and brought them together in Paris for a very active seminar on innovation, to enable them to take action during their final days.
This customer called on Pearl to accelerate team bonding.
Our method?
👉Situational scenarios.
👉The use of SOE, which is our trademark, proudly assumed as the bearer of values that still make sense today!
Away from their usual jobs, our teams carried out a series of workshops in Paris designed to encourage complementarity, boldness, solidarity and initiative.
I was delighted when Emma told me at the end of the day, as we debriefed, how much confidence she had gained.
At the start of the day, I'd seen her reserved, standing back a little, letting others have their say first, but always very relevant. And then, when her team got a bit "stuck", it was she who managed to put things right.
Emma would be able to continue the innovation seminar with a team she now knew much better, and to whom she had revealed herself with her strengths but also her "points for improvement"!
👉The same process was followed by every member of her team and the 4 other teams we worked with that week.
➡️De this way, it's the collective that's revealed itself! A stronger collective.
For us, when we see the smiles on the faces of the 20 participants at the end of the day, when we give them a little souvenir (photo), we savor our satisfaction.
And we know that when they see it back on their desks, they'll be reminded of it with great emotion.
We, too, have put together a supportive, responsive, creative team with Eric Villers, Stéphane Delvin, Marc Bessette, SFC, "Marco" and "Axel".
📌If you're still wondering about the ROI of this type of training when it comes to innovation, commitment, agility, trust, management, don't hesitate to contact us in PM.
PEARL Crisis Response

leadership#recruitment#collectiveintelligence#trust#companies#adaptation#humanfactor#engagement#agility#audace#crisismanagement#actionlearning#training#innovation
Back to news