The leverage of Crisis Management: anticipate and invest
How to use the Crisis Management organization as an asset for the company?
For the past 1 year, Pearl has been working with CREOCEAN, a company that has perfectly grasped the opportunity represented by the crisis management organization.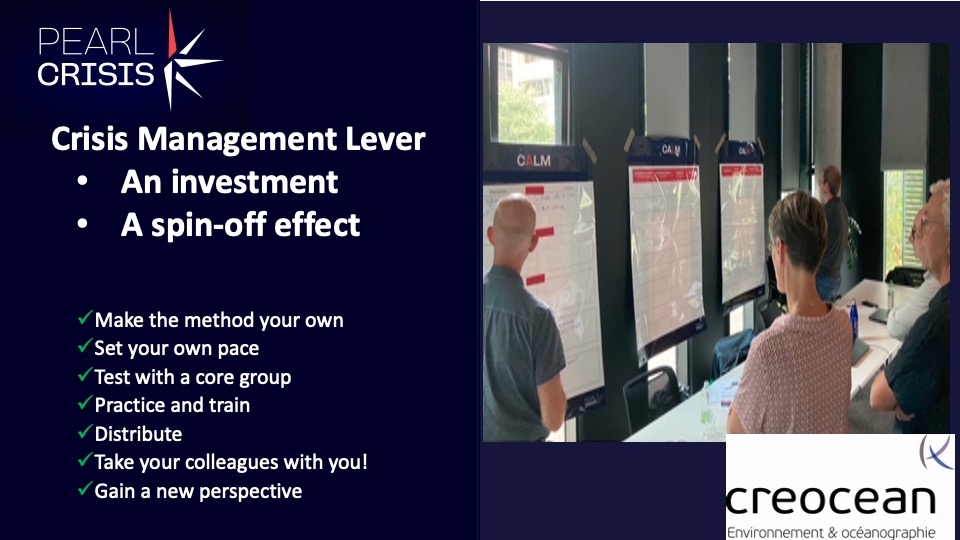 This organization, proposed and co-constructed with Pearl, focuses on the human factor, and is also designed to bring out the collective intelligence of the management team and anticipate risks.
But, for those who realize it and want it, it can also be the opportunity for an even deeper virtuous movement.
This is, for example, the decision-making process we bring to life in the context of an "extra-ordinary" organization, that of a crisis situation.
This represents an investment on several levels:
👉the ROI is also on the company's "ordinary" operations
👉a virtuous mechanism based on trust is established within the company
👉the involvement of teams will renew commitment to the company
🤔 For Créocéan, which manages difficult situations on a daily basis, the spin-offs and lessons learned from the ramp-up of the crisis management organization are numerous.
Stress management, anticipation, taking a step back, RETEX and the BECALM methodology in general, will provide additional depth in day-to-day management.
💡This has not escaped the attention of Créocéan's management, for whom organizing their crisis management is a commitment and an investment that fits in with a real strategy.
⚙️Cette management has established its strategy for ramping up its crisis management organization by following a progressive tempo.
The exercise we organized last week was a first step that enabled a core group of :
👉 familiarize themselves with the BECALM method
👉 demystify "crisis management" too
👉 convince themselves a little more of their collective ability
⚙️Ce becomes a group of ambassadors who will spread an enriched state of mind throughout the company. It's a ripple effect that management is aiming for, even beyond simple crisis management organization.
At the end of this first exercise, we made an appointment for the end of the year to continue this progress together.
➡️ For Pearl, it's an immense satisfaction to see itself so much in tune with its customers, and to note the contribution of our constructive outside view.
PEARL Crisis Response
Crisis leadership
Visit us at www.pearl-crisis.com
Contact us at contact@pearl-crisis.com
Back to news