"IM-PO-SSI-BLE!!!!"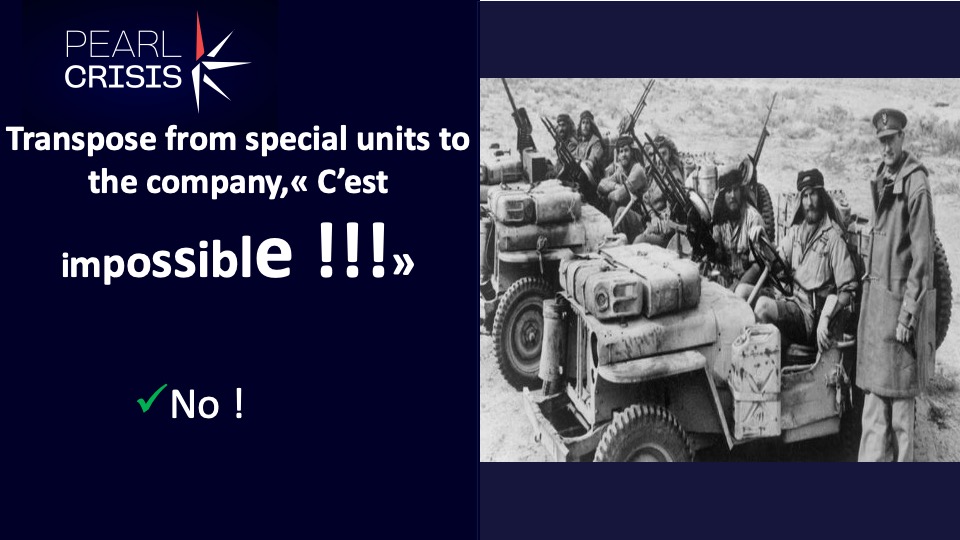 Transposing the know-how of special units to the service of corporate management
🤔"It's an aberration!"
🤔"It's pure marketing!"
🤔"They're completely different worlds!"
🤔"The military can go as far as the ultimate sacrifice!"
🤔"The vocations of one and the other have nothing to do with each other!"
🤔"The military commands and does not manage!"…
👉Small panegyric of the critical reactions heard and read following the article written by Thomas MISSLIN* for The Conversation France and reprinted in Le Point, to which he associated me.
👉 All these reactions can just as easily come from serving or retired military personnel as from civilians who undoubtedly have bad memories of their military service, or who feel that military management is dictatorial, etc etc etc.
⚙️Or, if there's one organization that must constantly change and adapt for vital reasons, it's the Army. This is partly through technology, but also through organization and management or command (not a bad word).
➡️Avec Pearl, we're not advocating the militarization of companies!
👉We take the best of what we've seen in special units and TRANSPOSE it to serve our customers.
We know our customers: no "mythos", "fanas mili" or "militants of whatever nostalgic cause"…
👉Our customers are small, medium-sized and ETI companies, all of whom share the same values:
-value people
-questioning the best ways to adapt
-be ahead of the game
-doubt enough to accept challenges
-learn while having human values that are their benchmarks.
💡We put at their service the best of special units where the notions of:
-trust
-leadership
-responsibility
-exemplarity
➡️qui are at the heart of units that owe their efficiency and adaptability to these fundamental values.
💡The ability to adapt in the military or economic field is simply vital. The ability to change, to cope with new situations and #uncertainty is vital for a military unit just as it is for a business!
This is based on a few notions that we seek to highlight with our customers, by questioning them, putting them in situations with our various "tools", through our immersive training courses or adjusted crisis management exercises.
🤔We, like others, believe that military management cannot be the sole source for corporate decision-makers and managers, but that it can be an inspiration that adds a string to their bow.
PEARL Crisis Response: drawing inspiration from special units for corporate leadership and collective intelligence
www.pearl-crisis.com
(https://lnkd.in/eW2c7Pis)
(https://lnkd.in/evugs4b8)
Back to news