We organize your seminar…
A tailor-made "experiential" seminar in Provence?
You want to live a strong collective experience in an authentic environment ?
Pearl can organize your seminar. In Provence, as here, or elsewhere.
On the menu, a day with a strong positive impact around collective intelligence with:
A crisis management exercise allowing the team to discover itself from another angle? A knowledge exchange. Negotiation techniques. The team must show its talents, its ability to listen, its empathy… to be more effective.
Emotional workshops in the field in the footsteps of ordinary heroes of the SOE (Special Operation Executive)? The team must adapt more and more quickly to new situations! We are at the limit of the escape game and yet we provide you with a real pedagogy.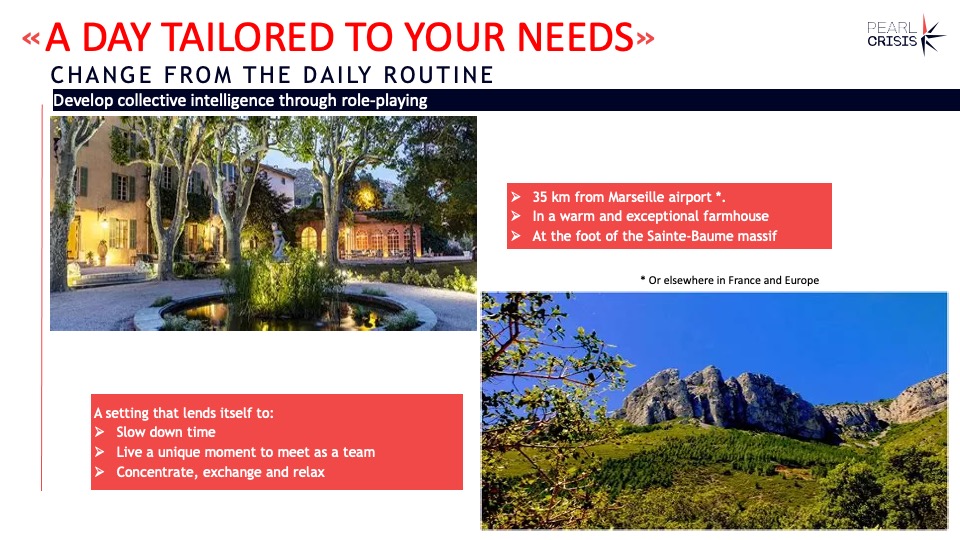 Just goes to show, you can learn while having fun! Isn't it recommended?
We put our creativity at your disposal to co-write with you training sessions adapted to your needs. Beyond the first positive impact (the famous "wow" effect), we accompany you afterwards (the famous "so what?"). By getting to know you better, we refine our proposals to meet your needs and developments as closely as possible. 
Back to news