What we can learn from operational agents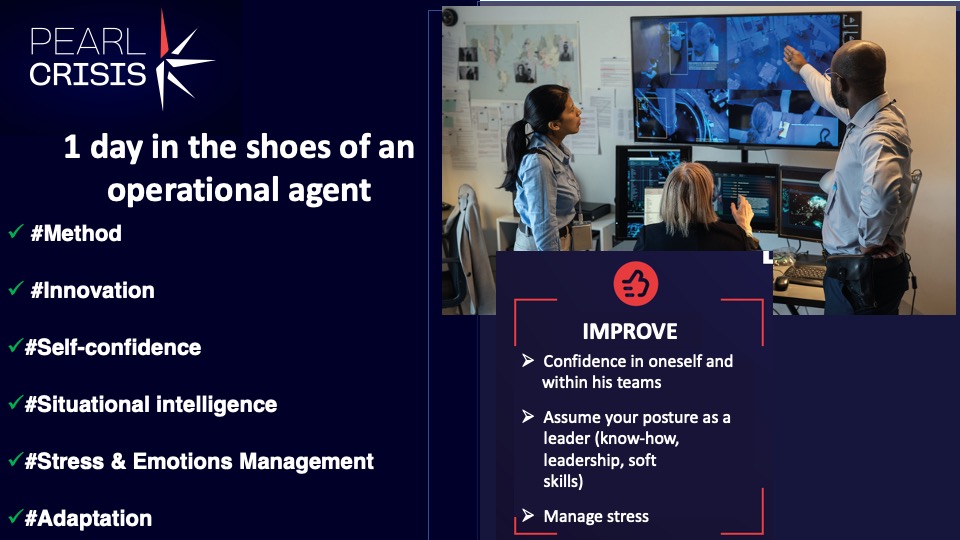 A unique experiential training
A day in the shoes of an operational agent
To work on effectiveness in situations of stress and uncertainty.
We take willing leaders out of their comfort zone and observe them to give them an objective mirror on how they function as a team.
🤔Just for fun? No.
As always Pearl (associated with VVM Conseil) uses the setting to allow to project oneself, to take the side step out of one's daily professional environment.
Under a quasi playful form, we nevertheless apply a solid pedagogy.
👉Do you want to know each other better individually and mutually?
👉You want to improve your ability to manage stress and emotions to better interact with your teams?
👉Would you like to build confidence in the team to dare, take initiative, improve adaptability and collective intelligence in an increasingly uncertain world and increase the agility of your organization?
👉Want to develop your soft skills and situational intelligence?
Visit us: www.pearl-crisis.com
Our trainings respect the Qualiopi format and open funding possibilities under certain conditions.
PEARL Crisis Response
Matthieu TELLIER
managementdustress #managementofemotions #stress #team #collectiveintelligence #leadership #collective #qualiopi #actionlearning #training #adaptation #agility #initiative #confidence #self-confidence #situationalintelligence #softskills
Translated with www.DeepL.com/Translator (free version)
Back to news